Protein is essential for the body for muscle growth and proper weight loss. It is also necessary for production, maintenance and repair of skin, hair, bones and other parts of the body. Protein also plays a pivotal role in enzyme and hormone production. A healthy protein diet plan must contain protein in right quantities. Your health and wellbeing as well as immunity and energy levels will depend on how your meals are fortified with high quality proteins.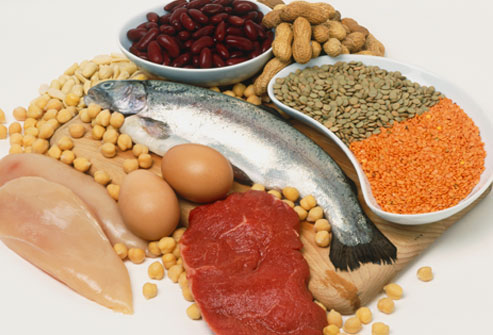 High Protein Foods
Growing children, as well as, adults require protein in their diets for healthy living. Therefore, it is imperative to know the foods that are high in protein, so that you can ensure your diet consists of these foods. Children's requirement of protein differs from an adult's protein requirement. For example, children need approximately 0.5 grams of protein per pound of their body weight per day. Adults need approximately 60 grams of protein per day.
Thankfully, protein is present in many food categories. Include the following foods in your protein diet plan.
Foods such as fish, seafood, dairy products, eggs, nuts, soy products, legumes, beans and cereals, such as wheat, rice and oats, are extremely high in protein.
Poultry, eggs, fish, meat and milk are rich in proteins and contain all essential amino acids.
Plant foods, seeds, nuts, grains and legumes contain incomplete proteins as not all the amino acids are present. However, these plant based proteins are also important as they have small quantities of one or more essential amino acids.
Seafood is one of the best sources of proteins and contains very little fat. Mixing up these food categories is the best way to strike a good balance of complete and incomplete proteins.
Weekly Protein Diet Plan
To ensure you get the proper amount of protein in your diet, you should consider the below protein diet-weekly plan.
Day 1
Breakfast: 2 scrambled eggs with grilled tomato
Snack: 30g trail mix (sunflower seeds, mixed nuts, cranberries, Goji berries and raw cacao nibs)
Lunch: 1 whole meal pita bread topped with 30ml pesto, diced tomato, spinach and mushrooms, baked for 10 minutes at 130 C
Snack: 60g plain yoghurt mixed with 14g flax seeds
Dinner: 150g baked salmon with light glaze of 3g ginger and 30ml water with zucchini and eggplant sautéed in 30ml of olive oil
Liquids: 2L water and 150ml kale, apple, celery juice (see Energy Booster Juice recipe)
Day 2
Breakfast: 1 cup muesli mixed with ½ cup blueberries and oat milk
Snack: 5 strawberries and 15g pumpkin seeds
Lunch: Salad of spinach, salad greens, cucumbers and 100g kidney beans
Snack: 30g trail mix and 1 apple
Dinner: 150g grilled lamb with 1 cup steamed broccoli, zucchini and squash
Liquids: 2L water and chamomile tea
Day 3
Breakfast: 2 egg omelet with30 g feta and parsley
Snack: 10 cashews and 1 apple
Lunch: ½ cup boiled Quinoa with 1 cup steamed seasonal vegetables
Snack: 1 cup carrot sticks with hummus (see hummus recipe)
Dinner: 180g baked chicken with 1 cup pan-seared mushrooms and spinach
Liquids: 2L water and 150ml kale, apple, celery juice (see Energy Booster Juice recipe)
Day 4
Breakfast: 1 cup Bircher muesli with ½ cup berries and 50g yoghurt (see Toasted Muesli recipe)
Snack: 30g trail mix
Lunch: 95g canned tuna sprinkled with lemon zest with lettuce and diced onions on rice cakes
Snack: 1 apple and handful grapes
Dinner: Salad of 180g grilled lamb, salad greens, olives, cucumber and 15 ml balsamic vinegar and 15ml extra virgin olive oil
Liquids: 2L water and peppermint tea
Day 5
Breakfast: 100g plain yoghurt with 10 g flax seeds and 2 teaspoons chia seeds with 1 passion fruit
Snack: 2 rice cakes with avocado
Lunch: Lentil soup - 75g boiled lentils mixed with 1 clove garlic, 1 medium chopped onion, 1 chopped carrot, 1 small diced tomato, shredded spinach and 500ml water
Snack: 1 banana and 10 cashews
Dinner: 1 cup squash, eggplant and mushrooms with ½ cup cooked brown rice, add Tamari to taste
Liquids: 2L water and 150ml kale, apple, celery juice (see Energy Booster Juice recipe)
Day 6
Breakfast: 2 slices sourdough bread with 80g ricotta, 1 tsp. honey and cinnamon
Snack: 35g plain yoghurt mixed with 1 tsp. chia seeds
Lunch: 180g grilled chicken with salad greens and tahini Top with black pepper and Dulse flakes
Snack: 10 cashews and apple
Dinner: 1 whole meal pita stuffed with 180 g chopped grilled chicken, spinach, cucumbers and 30g tahini
Liquids: 2L water and dandelion leaf tea
Day 7
Breakfast: 1 cup muesli with ½ cup blueberries, 70g plain yoghurt and oat milk
Snack: 30g pumpkin seeds
Lunch: 300ml miso soup with bokchoy, spinach and 100g chopped tofu
Snack: 12 grapes and 30g trail mix
Dinner: 150g grilled steak with 1 cup sautéed green beans and mushrooms
Liquids: 2L water and 150ml kale, apple, celery juice (see Energy Booster Juice recipe)
Try out this well planned protein diet plan over few weeks and observe the difference in your energy levels, the stamina, the skin tone and luster in your hair. With a protein-rich diet, you will feel less hungry after a meal, helping you avoid unhealthy snacking too. You will be few pounds lighter and looking radiant and healthy with this diet change.