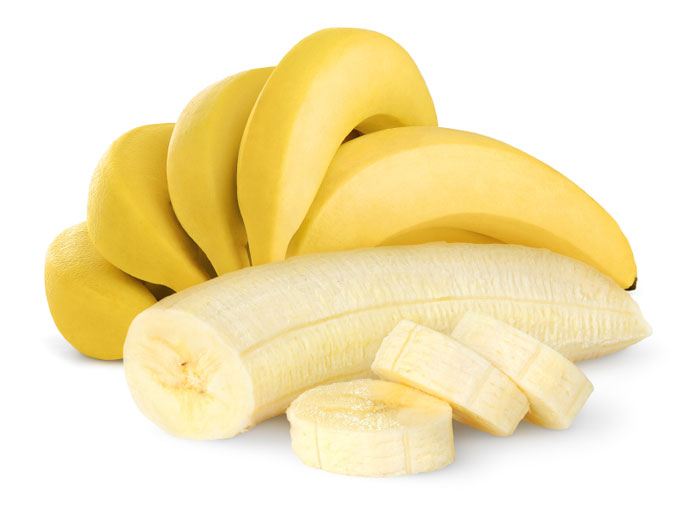 Bananas contain plenty of elements that can benefit your health. They are sweet without containing a lot of calories so you can eat plenty without feeling guilty. They are low fat and don't have any cholesterol which boosts their health value. They are a prime source of potassium that can help with muscle function and maintaining fluid levels. They are also high in vitamin C, vitamin B6 and manganese that have a variety of health benefits. The average banana contains as much as 3g of fiber to help you feel full. Bananas are also a prime source of vitamin A, E carotene, folate and choline with trace amino acids. With some many victamins and minerals, let's see what you can benefit from eating it.
Health Benefits of Bananas
Weight loss - Bananas are sweet, so they can help you replace your favorite sugary foods when you are trying to lose weight. They are also low in calories and contain soluble fiber that helps slow your digestion so that you can consume less and feel fuller, helping you to prevent overeating.
Heart function - Bananas are a prime source of potassium which is absorbed into the bloodstream via the intestinal walls. This helps to dissolve fluid in the cells to keep your body's fluid levels balanced. If you begin to experience a potassium deficiency, it can cause an irregular heart rhythm.
Regularity - Eating a banana each day gives you around 2.5 grams of fiber which will help you move your bowels more effectively. You should get at least 14 grams of fiber for every 1000 calories you eat. Bananas can help you reach this goal more effectively.
Eye health - Bananas are a prime source of vitamin A and beta-carotene, so one of the health benefits of bananas is they can help you maintain your eye health. These compounds help to maintain the structures that bring light into the cornea so you can see more effectively. Men should take in 900 mcg of vitamin A and women should consume 700 mcg each day.
Depression - Bananas contain tryptophan acid that can help boost your mood, reduce stress and help you manage depression more effectively.
Bowel system - You can get a great deal of fiber when eating bananas. This can help you move your bowels more effectively to reduce digestive distresses like constipation.
Bones - Bananas, particularly green bananas, also contain calcium that can promote healthy bones. They also contain a probiotic bacteria that can help your body absorb calcium more effectively.
Menstrual pains - Bananas give you a dose of vitamin B6 that will help you regulate your blood glucose level. Getting enough vitamin B6 can help you reduce menstrual cramps while boosting your mood to avoid PMS symptoms.
Ulcers - Consuming raw bananas can help address intestinal disorders by reducing acidity of the stomach and reducing stomach irritation.
Anemia - Bananas contain high amounts of iron and potassium that can increase your hemoglobin. This will help you combat anemia more effectively than some anemia medications can.
Brain power - Talking about health benefits of banana, surveys have shown that people who eat a banana with breakfast, lunch and for a snack have more brain power and alertness throughout the day. Children that eat bananas daily have been shown to score higher in studies.
Blood pressure - Because of the high potassium and low salt levels in bananas, this food is an ideal choice for those that are trying to lower their blood pressure.
Strokes - Bananas help you lower your blood pressure and provide plenty of potassium that can help you maintain balance in your body. This can help you lower your risk of developing a stroke.
Warts - Many health experts claim that placing the skin of a banana on a wart with the yellow side facing out can help to kill off the damaged tissue. Use surgical tape to hold the banana skin in place to ensure the most contact possible.
Stress - Getting enough potassium can help you regulate your heartbeat so you can get enough oxygen to your brain and maintain your water balance throughout the body. This helps keep our metabolic rate in check so you are less likely to feel the physical effects of stress.
Smoking - The magnesium, vitamins B6 and B12 and potassium can deduce nicotine content in the body. Those who are trying to break their addiction to nicotine can use bananas as a way to help them quit smoking.
Mosquito bites - Rubbing a mosquito bite with a banana to help take down the swelling and itchiness in the area is also one of the health benefits of banana.